Post by ryansilberman on Mar 14, 2020 20:46:48 GMT
(Downloads are at the bottom)


Hey y'all!
Long time no see. I've come to bring you guys a little something.
So, I'm a huge Pac-Man fan and I love learning about the more obscure things in the franchise. Last August, I stumbled upon something on the Pac-Man fan wiki known as "Pac-Man no Desktop Daisakusen".
It's a 1999 Japan-only release for PC, with Windows 95/98 being labeled on the box. Not much has ever really been known of it, other than it also featuring a minigame called "Pac-Athlon" (which I previously archived for BlueMaxima's Flashpoint and created a fan remake of during this January).
I managed to find a copy of it online on Yahoo Auctions somewhere around last October, and purchased it via ZenMarket. Frustratingly, the game's setup would not work properly on my laptop nor the Windows 98 virtual machine I have on it. HOWEVER, I've had a Windows XP buried in the garage while I've been in college. So now that I'm finally home, I took it out, and inserted the disc in to see if it would work.
Wouldn't you know it, it actually did!
It's not a very deep program, admittedly. Pac-Man and a ghost (usually Clyde or Sue) run around the screen, you can feed Pac-Man food, read his diary, and alter some cosmetic things like the sprite size and Pac-Man's headgear. Still, it's fun to toy around with to see what there is, and the onscreen antics can be amusing at times.
Its functionality might vary between Windows platforms. It actually works on my laptop and VM despite the setup crashing on them, but the sprite images for Pac-Man and the ghosts have no transparency, and the fruits used to feed Pac-Man don't appear correctly. But on my XP, it works perfectly.
EDIT: According to the software's manual, it recommends setting the display to 16-bit to show Pac-Man and the ghost properly. I tested this out on the VM, and it works. 32-Bit works as well. I don't know what the equivalent of these modes would be on a modern PC.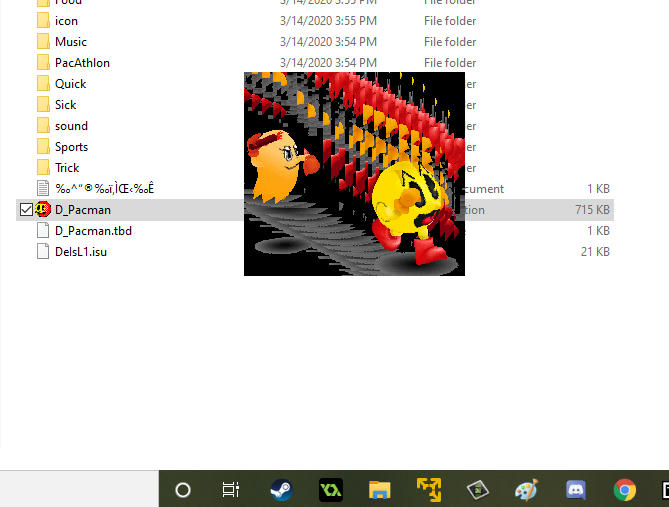 Pac-Athlon's files are also included in this zip, but clicking the application won't work; it actually requires the disc while the other parts do not. However, the game is composed of its dxr files, which can be used on anything that runs Shockwave games. So the game can be run that way.
Either way, I'm glad to have finally uncovered the contents of Desktop Daisakusen and share em online.
I will also get around to scanning the manual, boxart, etc while I'm here at home.
I'm currently working on the software's Internet Archive page, which you can
see here
.
You can also download the contents of the software through the page.