Post by tropesaredangerous on Dec 22, 2019 21:00:27 GMT
Hello all,
I wrote the LMW pages for the audio tapes used by the Mego 2-XL Toy Robot (1978-1981) and Tiger 2-XL Toy Robot (1992-1995). Most of the tapes for these two have not been digitized and uploaded online yet. I am still working through some tapes from my personal collection, but I don't own all of them. I already put plenty of information on the articles themselves, but I wanted to open up discussion on these tapes and try to get more people involved. Perhaps someone out there has one of the tapes that I do not own, or perhaps they have information on some of the more obscure releases.
My main source for much of my information on the Mego 2-XL and Tiger 2-XL has been the 2xlrobot.com fansite at:
2xlrobot.com/
============================

Mego
============================

My main focus with archiving Mego tapes has been the U.S. releases, as I have had much more luck finding them. I still have a few of the Lost tapes that I haven't digitized yet. However, it is a time-consuming process. Here are the lost tapes that I own and hope to eventually digitize.
50s and 60s Nostalgia
Amazing Sports Feats
Animal World
Bet Your Life
Believe This Or Not

Exercise with 2-XL
Math and Number Games
Wonders of the World
The Basics of ABCs
Storyland: 2-XL and the Time Machine
Strange But Is It True
"Talking Calculator" and Number Games
Traffic and Bicycle Safety
U.S. President and American History
Wonders of the World

Still, that leaves several lost tapes that I do not own. I would like to give special mention to two particularly rare tapes that I do not own:
Storyland
Reading, Writing, and Arithmetic
I always assumed that the rare Mego tapes would be the ones that were released in late 1981, just before the system was discontinued. However, these two tapes were actually released at the beginning in 1978. They were just discontinued early on. If anyone has these tapes, then please digitize them. There can't be many copies still available. The original "Storyland" (not to be confused with "Storyland: 2-XL and the Time Machine") is considered a bit of a "Holy Grail" in collectors circles.
Additionally, the article lists several tapes as Existence Unconfirmed, so if anyone has info, please speak up.
Outside of U.S. releases, there were also Mexican and Canadian releases. I have seen pictures of five Spanish-langauge tapes that were released in Mexico. However, I have only seen one eBay listing which was only for the "Informacion General" (General Information) cartridge. I am based in the U.S., so it may be that other tapes traded on eBay in Mexico are from sellers who don't want to ship internationally. If anyone owns any Mexican tapes and wants to digitize them, then that would be great. Also, if anyone has photos or info about other Mexican releases, then that would also be great.

I have never heard that the English tapes released in Canada were any different from the English tapes from the U.S. However, one French language tape from Canada has surfaced in the hands of a collector. I haven't seen so much as a picture for any other French-language Mego tapes. Again, if anyone can contribute recordings or images of other French Mego releases from Canada, then I would appreciate it.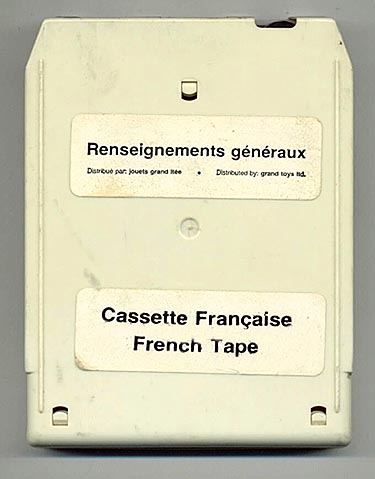 ==============

Tiger
==============

As with the Mego 2-XL, my main focus for digitizing Tiger 2XL tapes has been U.S. releases. I have digitized and uploaded all of the tapes that I currently own. At one time, a fan-site called
2xlbot.com/
had digitized 43 out of the 44 tapes. They even had a little Adobe Flash program that allowed you to play the tapes with a virtual 2-XL. However, the tapes were not downloadable, and needed to be recorded from one computer to another to get them into a downloadable state on the Internet Archive. Sadly, the audio stopped working on that site in December 2019. I have used the Wayback Machine, but it looks like the files were hosted externally on a site called
retrouprising.com/
. They even had the supposed "Holy Grail" for Tiger 2-XL games, the "Mighty Morphin Power Rangers Attack of the 100 Foot Teenagers". This was the last tape released for the system, and the only one released in 1995. Fortunately, I was able to record that from 2xlbot.com, as well as several other licensed tapes that now fetch absurd amounts of money on eBay. Sadly, I did not get to grab all of the tapes from that site before the audio failed. I am especially kicking myself for not grabbing the rest of the "Scholastic Series" tapes that were up there, as those tapes were late releases, and they are probably rare. The fansite was down for maintenance as recently as March of 2019, so it is possible that it has not been abandoned. I hope that the audio is fixed soon.
Failing that, I have tried looking into the flash file via the JPEXS Free Flash Decompiler. I was hoping to see where the flash file was getting the audio from, and then maybe I would be able to dig the files up on the WayBack Machine after all. However, I am unfamiliar with flash, so I was unable to figure it out. It looks like the items were hosted at
www.retrouprising.com/arcade/images/2xl/
, as that path appears in the decompiled flash file. However, I have only been able to find the images for the tapes over there, so I could have the wrong path. I did not see any other external URLs in the code. Once again, I have little experience with flash, so I would appreciate someone more experienced looking into this. It may yet enable us to make major progress on archiving the Tiger tapes.
As for the non-U.S. releases, I suspect that the listing on the Tiger 2-XL article is incomplete. At first, I was going off of fliers and packaging from 2xlrobot.com. However, I then found two listings on eBay that revealed ten previously unknown Italian titles. Not all tapes appear to be translated versions of existing U.S. tapes either. I suspect many more tapes are around in France, Germany, and Italy. However, I can only see those tapes that are put up for auction with the option to ship to the U.S. If anyone in that part of the world can supply rips of these tapes, or even just photos of undiscovered tapes, then I would really appreciate it.

==============

Anomalies
==============

There are a few items that I find particularly interesting about the 2-XL. First, the 2xlrobot fansite found a brief audio recording of 2-XL speaking Japanese:
2xlrobot.com/moreinfo/international.html
This is huge, as it is the only current evidence of a Japanese release. However, there is next to no information on which tape this was taken from, and I have never seen a photo of any 2-XL tapes from Japan. I don't speak Japanese either, so I don't understand what he is saying. I suspect that it is from a Tiger 2-XL tape, as opposed to a Mego tape, however. With the Mego 2-XL, all known releases were in Canada, the U.S., and Mexico. It did not seem to leave the North American continent. However, the Tiger 2-XL did travel from the North American continent to certain European countries. Given that information, it seems more likely to me that this would be the version to also travel to Japan.
Second, there is one more Mexican tape from the Mego 2-XL that I did not list on the page. It was a custom-made tape produced by Ensueño Toys of Mexico for a promotional event. It is most likely one-of-a-kind, and it was almost certainly trashed after the event. However, if someone has this special tape, against all odds, then please digitize it.
That's all that I have to say for now. I will try to keep this thread updated as I continue digitizing my own collection. If anyone has any rips of the completely/partially lost tapes, then I would appreciate the help. Also if anyone has information on any of the Existence Unconfirmed tapes listed by the articles, or any tapes that are not accounted for in the article, please speak up. There are too many tapes associated with these two robots for me to be able to complete the archive on my own.