Post by Famicom on Dec 15, 2017 11:44:57 GMT
King Koopa's Kool Kartoons is an incredibly rare and obscure show starring Gerry Pass as the host. with not even a single full episode up. It was broadcast in South California during the holiday's of '89-90. The show aired on the KTTV Fox 11 station during the late afternoons.
There is little to no information on the show, however, we do know that all which they screened was very old black and white public domain cartoons. At the end of each show, Koopa would give out prizes such as the NES "Power Glove", and $20 Toys R Us gift cards. The show (apparently) re-aired somewhere in the UK during the early to mid 90's, and was nominated for "Best Youth Program". The where-about's of the show have remained a mystery ever since the early days of the internet, with some even doubting It's existence until the opening and ending were uploaded to YouTube and other video sharing sites. These were all very low quality and compressed rips, but that is to be expected from the time that they were transferred. I have since contacted a writer of the show on her blog, but she refuses to comment on the matter, nor give out any info on it whatsoever.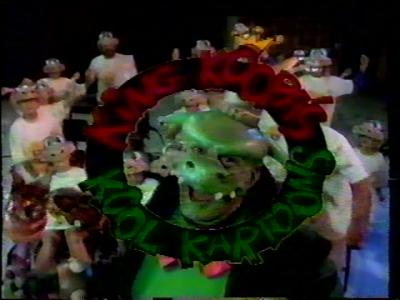 After some searching, I came across a post by Mike Iacono on "Retro Junk" of a user apparently in possession of full-episode tapes. He has indeed transferred the tapes, but he never came back to update the post nor go "MIaconoSP" anymore. I have since found an eBay account which is most likely him from the US and selling video games, but I am not completely sure. As of now, we currently know of two individuals who own copies, but they haven't gotten back to us yet. Which is a shame.
Here is what Mike went on to say;
When I was a wee lad, I would religiously park myself in front of the TV after school and watch the best hour of TV my young self had yet to experience. First was the Super Mario Brother Super Show, I will always have a warm place in my heart for Capt. Lou Albano. Next was King Koopa's Kool Kartoons. Sometimes I would use my VCR and tape such occasions. More recently, I tried "Googling" King Koopa's Kool Kartoons and found nothing. I tried "Googling" The King Koopa Show and alas, found nothing. Then I found RetroJunk.com and spent hours reminiscing about fond memories and old TV shows and cartoons. I searched for my beloved show on RetroJunk and still found nothing! Then I remembered my old video tapes... I know I used to tape these shows! So the search began. Looking through mounds of old tapes with blank labels, fast forwarding through hours of tape looking for the lost show. Nothing... I was about to give up hope but then I found it! An old tape labeled Super Mario Bros Cartoons. "Could it be?" I thought to myself, racing to my VCR. I felt like a young Indiana Jones about to discover the Arc's final resting place. I put the tape in, pressed play and there he was. A tear formed in my eye. This tape not only included 2 full episodes of King Koopas Kool Kartoons, it also included an episode of Small Wonder, 2 Episodes of The Super Mario Super Show as well as various, priceless, 80's commercials. Like one for the Powerglove. What memories! It was like going back in time. My young life flashed before my eyes... A feeling that's indescribable over took me… I quickly transferred the videotape to my computer, forever preserving this lost treasure.

These video's are easily considered a holy grail among some Super Mario, Lost Media and Nintendo collectors and are very sought after. If anyone has more info on the show, please let us know! Hopefully this lost piece of history gets some closure some day. Any users here interested in helping to dig this up?
Retro Junk post