Post by tropesaredangerous on Apr 14, 2019 4:29:17 GMT
Hello all,
I have stumbled upon an obscure toy from 1988 based around VHS tapes.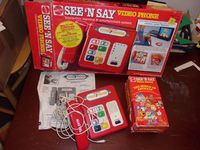 The toy in question is the See 'N Say Video Phone by Mattel. It was an attempt to bring a Japanese toy known as the Bandai Terebikko over the US by building off of the legendary See 'N Say line. The console itself has little to nothing to do with the original See 'N Say, however. It is a small plastic phone that connects to the VCR through the audio jack. Then, you put the VHS tape into the VCR. The VHS tape sends programming information over the audio jack. As the tape plays, the characters will use their phones to call the player's phone. The player is presented with very simple questions that may be answered with the four buttons on the phone. The game provides the player with feedback based on whether their answer was right or wrong. It does this by using the programming data to know when to mute the audio and when to let the audio come through the speaker. However, the audio input is mono to accomodate older or cheaper VCRS, so the two responses are said sequentially on the same audio track. Thus, you get awkward pauses when the console needs to mute the other response.
The tapes contain a mixture of puppetry and low-budget traditional animation. The main puppet is called Saymour, and he works at the the See 'N Say Phone Center. We also get two computers, Tululu and Tidas. Animated characters include a bee called Bee, The Farmer, and Mother Goose.

If you look very closely at the box, you can see a stack of four videotapes, so we know at least those four were released.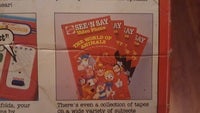 However, only three are accounted for:
The World of Animals was taken from a YouTube upload. I personally uploaded Treasure Hunt and A Sing-Along Surprise Party. Unfortunately, the box never lists the titles out, so the fourth tape is a mystery. There is very little information online about this console. I have been able to find a low quality magazine advertisement on Pintrest, and a low-quality television advertisement on Youtube. Does anyone have any other information about this?
I should also note that the Japanese counterpart, the Bandai Telebiko, may be missing tapes as well, but I am uncertain of how many tapes were released.
Again, any information anyone could provide to assist with the search would be appreciated.