Post by danielwenne on Oct 20, 2018 19:37:45 GMT
Hello there,
When I was a child, one of my favorite movies was the 1980 version of the Blue Lagoon. It would re-air multiple times on
Sessão da tarde
here in Brazil, and many scenes such as the crab leaving paddy's mouth terrified me back then and are scarred in my memory. However, last year I found out that prior to the 1980's version there were two other film adaptations of the novel, one made in 1949 and the other made in 1923, and I was determined to watch them. 1949 was easy to find, as it was widely available online, but I couldn't find 1923 anywhere.
It was made in South Africa by African Film Productions and has an IMDB page with plenty of data.
I tried multiple torrent websites, in Portuguese and in English, and while I could find plenty of information, the film was nowhere to be seen. Since I'd been reading the Lost Media wiki for a while then, I knew where to start. I tried first searching for pictures, which was easier said than done. After much effort, I managed to find 3 really blurry pictures in one Brazilian website. One of them I later confirmed to be from one of the other versions, so I had two to work with. After much reverse image searching with no results, I took a closer look and noticed they both had the same watermark, but the image was so blurry I couldn't read a thing. After some lengthy photoshopping I could finally make out that the pictures said: "Jay Parrino's the Mint"
.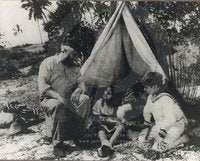 I then Began researching Jay Parrino, the guy used to be a coin collector back in the early 2000s, but up until now he was a vintage film photography collector(just what we needed) and was obviously the owner of "Jay Parrino's the mint", but about 7 year or so ago his company changed name to "MMG vintage", and since early this year MMG Vintage might have closed down, as the website has been in Maintenence for a while. I tried contacting MMG, but I cannot find their email or any of the employee's email either. So I decided to move on and try something else.
While researching in worldcat.org I found a book called "BLACK AND WHITE BIOSCOPE: making movies in Africa 1899-1925". In the table of contents, there was the blue lagoon on it, so it was a good lead. I emailed the man who wrote the book, professor Neil Parsons from Botswana university, but I'm yet to get a response.
Finally, I decided to send an email to South Africa's Film Archives, and got the following response:



Dear Daniel

Thanks for the email which my Director has forwarded to me.

Unfortunately many of the silent features made in Africa's oldest film industry were never archived: indeed, African Film Productions had a policy of destroying its' films when their respective screening contracts had expired.

Please note that The Blue Lagoon was directed by Weston Bowden, The Vulture's Prey by Dick Cruikshanks and Symbol of Sacrifice by I W Schlesinger.

Please see the attached lists: the first of which gives a comprehensive listing of all the feature films made here during the silent era up until 1969 and the second list concerns the few silent features that do survive, thanks to the efforts of our predecessors the National Film Board and ourselves.

The South African company MNet claims the rights to much of the films made prior to 1994 in South African and many of the films have been digitized: I cannot recall if Symbol of Sacrifice was one of these. MNet's contact email is

[email protected]

Warm South African greetings

I seriously doubt that the film was destroyed, as it would be impossible for Jay Parrino to get those pictures. I have also sent Mnet an email but got no response as of today. I have no one else to contact, so I would like you guys to help me. Sorry if any of this sounds redundant or nonsensical, I'm really struggling to write in English.